INTRODUCING ONE SHOT: EXCLUSIVE ONE-OF-ONE PHOTO PRINTS FROM THE WORLD'S MOST EXCITING PHOTOGRAPHERS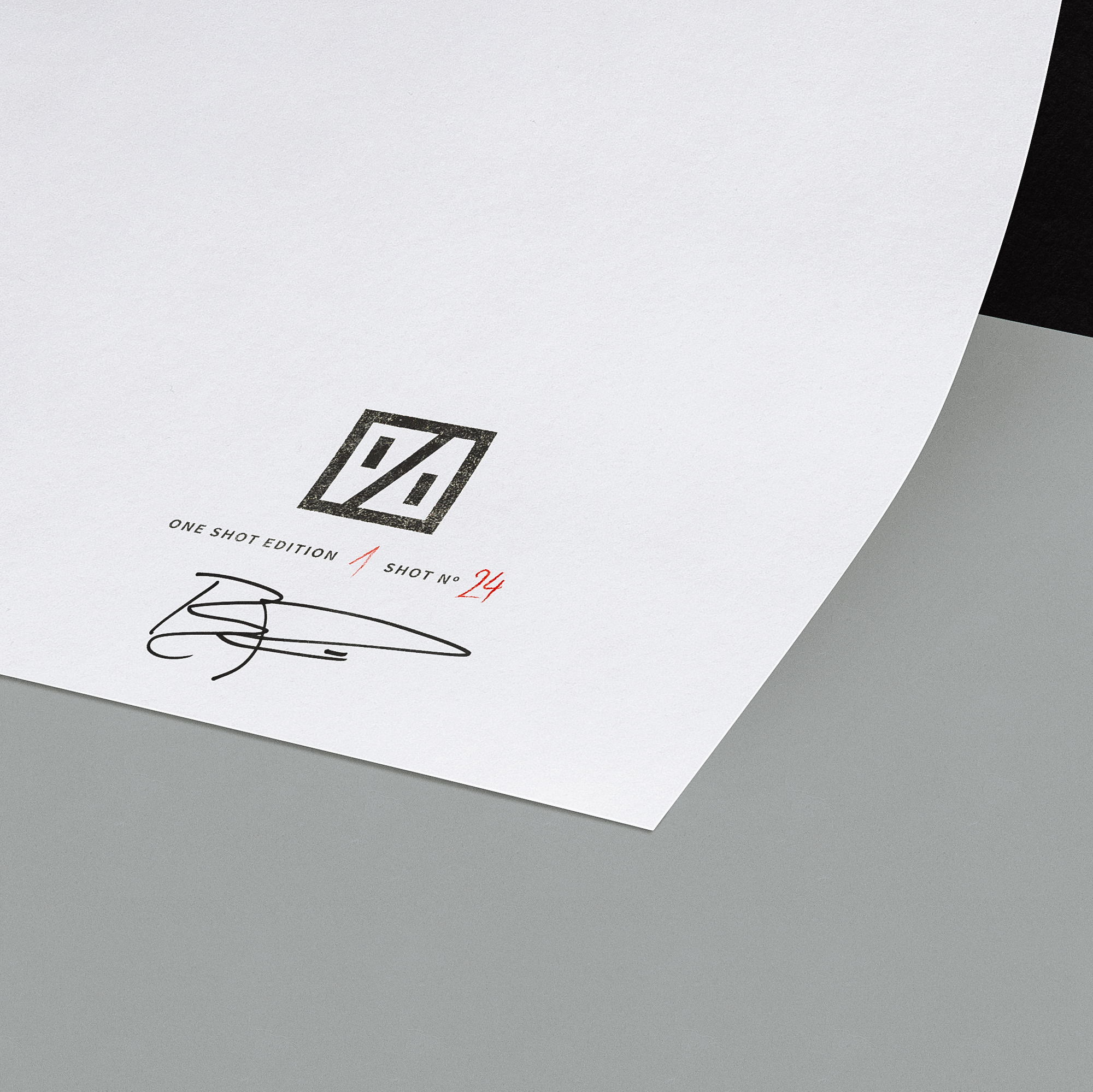 ONE PHOTOGRAPHER. ONE ROLL OF FILM. ZERO NEGATIVES.
One Shot is a new kind of online gallery that sells museum quality prints of exclusive photos from world-class photographers. Each One Shot photo is printed in an edition of one. After the prints are made, the negatives are destroyed, making One Shot the most limited, limited edition photo series ever. Each photo is sold sight unseen, meaning that buyers won't know what the shots look like until after they've purchased them.
THE RUSSIAN ROULETTE OF PHOTOGRAPHY.
For each edition, One Shot commissions a world-class photographer to shoot a single roll of film, however they want. Buyers can select any available shot on the roll. Once each shot is claimed, it will be gone forever. The number of shots to pick from will vary based on the film format the photographer chooses. Each shot could result in a masterpiece, a happy accident or something else entirely. You won't know until you take your shot.
NO REPRINTS. EVER.
Each buyer will receive an exclusive 1/1 print of their purchased shot they purchased. This will be the only print that will ever exist for this particular photo because One Shot destroys the negatives. Each featured photographer chooses the method of destruction for his/her edition.
EDITION ONE: BRIAN FINKE.
One Shot launches with fresh work from award-winning photographer, Brian Finke, whose iconic work featuring bodybuilders, flight attendants, high school cheerleaders and hip hop honeys has been published in books and exhibited around the world. His editorial photography appears regularly in The New York Times, Wired Magazine, National Geographic, The New Yorker, Esquire and Newsweek. For One Shot, Finke will shoot a roll of medium-format Fuji Pro 400H on his Hasselblad 503CW.
"It felt good, strange and fun," Finke says of One Shot, "I was definitely more decisive about each frame I made, but still had the same laser focus."
24 SHOTS ON SALE DECEMBER 5TH.
Brian Finke's twenty four 1/1 photos will be available exclusively through oneshoteditions.com on December 5th, 2016 at 9 AM Eastern time. Each One Shot print costs $150 + shipping and comes with a copy of the One Shot Zine: Edition One. The zine includes an overview of the series, a Q&A with Brian Finke and an essay from the founders. It's available separately for $10 + shipping.
A PASSION FOR ANALOG.
One Shot was created by Zack McDonald and Daan van Dam to help people reconnect with the mysterious and fragile beauty of analog photography.
According to McDonald, "There's a wildness to analog photography that's been all but forgotten. Having only a handful of chances to land that perfect shot is almost unthinkable. Waiting days or even weeks to find out if you got it is damn near unbearable. That way of shooting feels dangerous. And incredibly exciting. We want to remind people of that feeling."
"We founded One Shot to highlight everything that's remarkable about analog photography," says van Dam. "We aim to do it in the most fun, interesting and accessible way possible. Where else can you get an affordable 1/1 original print from one of the best photographers in the world?"
FULL CREDITS.
Concept & Curation: Zack McDonald & Daan van Dam
Design & Art Direction: Zorica Radovic
Code: Hannah Smith
Production: Eva Koster & Sheri Radel Rosenberg
Film Edit: Herman Forsman
Film Music: Josephine Forsman & Herman Forsman
PRESS KIT.
Download the full press kit including hi-res imagery and video here.
LEARN MORE.
For more information contact: one@oneshoteditions.com