reFramed: In conversation with Brian Finke
By: Barbara Davidson
"reFramed" is a feature showcasing fine art photography and vision-forward photojournalism. It is curated by Los Angeles Times staff photographer Barbara Davidson.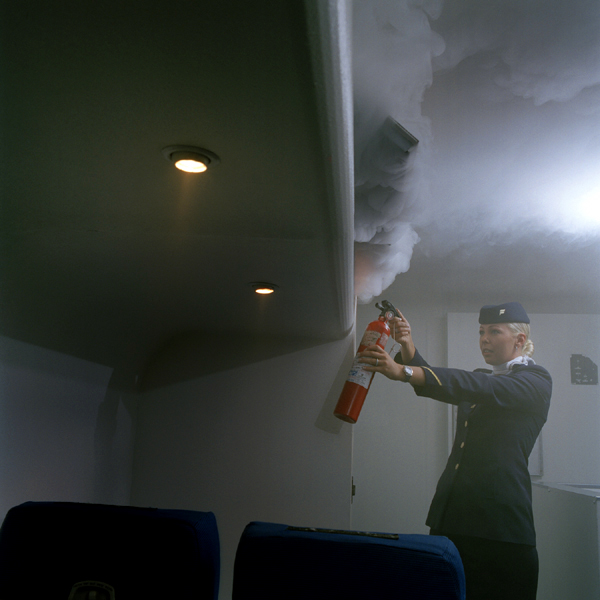 ………………..
Brian Finke is a photographer living and working in Brooklyn, NY. He is the author of 2-4-6-8: American Cheerleaders and Football Players (Umbrage Editions, 2003), Flight Attendants (powerhouse Books and Filigrane Editions 2008), and Construction, DECODE Books 2012. Recent editorial clients include The New York Times Magazine, GQ, ESPN the Magazine, and Wired.
………………..
Q: How did you get started in photography?
A: Been making pictures forever. It started back in the day with high school photo classes, with the idealistic motivations of social awareness and from reading about the amazing life and work of photojournalist W. Eugene Smith. While my projects are still documentary in approach, I'm much more interested in making a social comment about my own culture.
………………..
Q: Your work comes from a perspective of observer, much like the world of documentary photography. Can you tell me about your photographic approach and why you are drawn to team cultures and groups of people, and how you are able to find diversity in uniformity?
A: I want my images to be straightforward and honest about the characters I photograph, to see the subtleties of the small gestures whether it be squinting eyes or the way someone holds themselves, describing them through their body language.
………………..
Q: Your "Flight Attendants" series was born out of two years of crisscrossing the globe on assignment. Can you tell me how, and why, this project came to be?
A: When I started working for magazines and traveling a bunch is when the project presented itself, the flight attendants were right there in front of me. I come to projects many different ways. My previous body of work was about cheerleaders and football players. From that I started becoming interested in costuming and uniforms. I was also interested in the challenge of photographing on planes in a post-9/11 world. But for me photography is so much about the process, I love the experience of making images, being out in the world, and making pictures at 40,000 feet.
………………..
Q: I love that you not only capture the high-flying profession in the air but you also capture behind the scenes of flight attendants' daily life. Can you tell me about getting such well-rounded access – especially at the flight attendant school?
A: To produce the project, I pitched various fashion and travel stories to editorial clients I shoot for, then we'd approach the airlines together and they'd either be totally into the idea or want nothing to do with it. My subject matter is very relatable. With flight attendants we're used of course to seeing them on planes, but I wanted to also take them out of that context and show them in the everyday, at home, in the store, picking up their kid after school. After photographing in-flight, the schools were another aspect of their jobs.
………………..
Q: Your most recent series, "Construction," explores building sites in New York City. Again, like your other series, you have a wonderful way of visually championing the ordinary. Can you tell me what inspired this project and how the financial crisis of 2008 impacted the work?
A: I'd been living in NYC for many years, and simply all this construction was going on all around me. When I began working on access, I first approached the contractors but without any success. Then I started contacting the architects, them being the creatives, they got my project and that's how I began gaining access to the various sites. It had been a long process gaining access, the toughest of any of my projects. By the time I started photographing, the financial crisis had begun.
………………..
Q: Both of these essays were shot using film, flash and a Hasselblad. Why film, flash and medium format?
A: I use the various tools to create images that heighten the everyday, to create a reality that is larger than life and through the use of the medium format Hasselblad, and adding flash to saturate the scene with light.
barbara.davidson@latimes.com